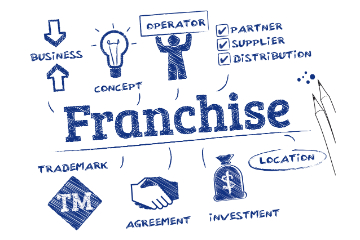 Have you ever found yourself in a situation where your business requires legal advice, yet you don't know how to go about it? Are you looking for a reliable lawyer in the Netherlands with the right expertise, who can help you without breaking the bank?
As a franchise law firm based in the Netherlands, my team and I understand all of these needs intimately. Since 2021 the Dutch Franchise Law entered into force and our team of specialist lawyers in Holland gladly offers our services. Until recently, there was no statutory definition of 'franchise' or 'franchising' in the Netherlands. The Dutch Franchise Association (in Dutch: "Nederlandse Franchise Vereniging") provided a definition (recognized in parts by the courts) as follows:
'Franchising is a popular business formula that encourages self-employment. For a fee, an independent entrepreneur acquires the right to operate a particular formula. The franchisee benefits from the use of the (brand) name, logo, available know-how, and the possibility of joint purchasing and advertising.'
With over 15 years of experience in Dutch commercial and franchise regulations in the Netherlands, my colleagues and I have been providing effective solutions tailored to our clients' requirements. We are an established presence within the local market, as well as being part of numerous international networks that allow us to serve our customers on a global scale. Our franchise agreement attorneys in Holland offer both practical and strategic advice for all types of businesses operating within the country's jurisdiction – from small start-ups to large corporations.
We firmly believe that taking advantage of a suitable franchise agreement is key for any company looking to expand their operations into new markets or territories. That's why we provide comprehensive services related to drafting, negotiating and reviewing such agreements. With our vast knowledge of relevant laws, regulations and industry trends, we make sure that each contract meets its purpose effectively while protecting your interests at all times.
Franchise Agreement Lawyers In The Netherlands
At Dutch franchise law firms, our franchise attorneys in the Netherlands specialize in providing comprehensive legal services for all aspects of franchising. Our firm's experienced franchise law practice in the Netherlands can guide you through everything from drafting and reviewing a franchise agreement to litigating disputes that arise out of existing franchises.
We understand that every business is unique and requires tailored solutions when it comes to franchising in the Netherlands – so we strive to provide personalized advice and representation that best meets your individual needs. Our team of specialist franchise lawyers in the Netherlands are well-versed in current regulations and laws pertaining to franchising within the European Union and across Europe as a whole. We have successfully helped numerous clients navigate their way through complex issues related to franchise agreements here in the Netherlands, while also representing them before local courts if necessary. In such cases, we can help ensure that your rights are protected and you receive proper compensation for any damages incurred due to negligence or breach of contract in the Netherlands. With our knowledge and expertise on hand, you can be sure that your interests will be fully represented whether inside or outside court proceedings. Hence, with us by your side, you can rest assured that whatever challenges come along with franchising in the Netherlands will be dealt with swiftly and effectively.
Solutions For Franchising In The Netherlands
The Netherlands is a great place to start and expand a franchise business, but it's important to get the right legal advice. A reliable Dutch law firm for franchise law can provide comprehensive solutions that protect your interests as you navigate the complexities of franchising in this country.
Here are five key services offered by our experienced team of experts:
Legal Representation – We will review and/or draft all Dutch franchise contracts, file necessary documents with local authorities (if appropriate), and make sure that all agreements (governed by Dutch law) comply with applicable laws and regulations.
Intellectual Property Protection – We'll ensure that trademarks and other intellectual property assets are properly registered and protected from infringement.
Dispute Resolution – In case of conflicts between parties involved in the franchising process, we offer mediation services to help resolve matters quickly and amicably.
These are just some of the ways our firm can support clients who need assistance navigating Dutch franchise law. With over 15 years' worth of expertise in this area, we are confident that we can deliver tailored solutions that meet each individual client's needs. Timely advice backed up by dedicated execution ensures smooth sailing throughout the entire franchising journey – no matter how complex the situation may be! From initial consultation through ongoing support, our team is here to help you succeed in this competitive arena.
Our Dutch lawyers offer expertise across numerous areas related to franchising, allowing us to create customized strategies specific to your goals and objectives. Whether you're looking for guidance before launching operations or require assistance resolving disputes afterwards – we've got you covered.
Dutch Lawyers Offering Franchise Expertise
Having discussed the solutions available for franchising in the Netherlands, this section will explore Dutch lawyers offering franchise expertise. These professionals specialize in providing legal advice on all matters of franchise law and can be invaluable to businesses seeking to establish a successful operation within the country.
| Franchise Law Profesionals in The Netherlands | Dutch Franchise Law Attorneys |
| --- | --- |
| Provide expert franchise legal advice under Dutch law | Have extensive experience in legal franchise matters in the Netherlands |
| Can help businesses navigate complex laws in Holland | Keep up-to-date with regulations, for example with the new Dutch Franchise Act (adopted in 2021) |
| Understand Dutch and international licensing requirements | Ensure compliance and commercial contracts |
| Help secure trademark rights and other IP-related assets | Provide strategic guidance in the Netherlands |
| Knowledgeable about dispute resolution in the Netherlands, including mediation, civil court proceedings and arbitration | Work to protect clients' legal interests |
With an understanding of all relevant legislation, as well as years of industry experience, these experts are highly sought after by entrepreneurs and established companies alike. Furthermore, they often have strong connections with other key individuals in the field, such as accountants or tax advisors. This allows them to provide more comprehensive support when it comes to setting up operations or resolving disputes related to franchises.
The right lawyer is essential for those looking to get their business off the ground and operating effectively in The Netherlands. A good attorney should not only understand the nuances of local law but also be able to offer sound legal advice that safeguards your company's future success. As such, finding a reputable firm that specializes in franchise law is recommended before entering into any agreement or undertaking any activity related to franchising in The Netherlands.
With this knowledge of Dutch attorneys offering specialized franchise expertise at hand, we now turn our attention towards exploring what kind of services are provided by franchise law offices located in Amsterdam.
Franchise Law Offices In Amsterdam
When it comes to franchise law advice in the Netherlands, many people feel overwhelmed and uncertain. That is why it is important to speak with an experienced professional Dutch franchise lawyer who understands the complexities of local laws and regulations. Consulting with professional Dutch franchise advice ensures you get the best possible outcome from your transaction – whatever form that may take – so don't hesitate to contact any one these firms today! From here we will move onto discussing what consulting entails when working with these experts.
Consulting With Professional Dutch Franchise Advice
If you're looking to establish a successful franchise in the Netherlands, consulting with professional Dutch franchise advice is essential. The country's complex legal system requires expertise from experienced professionals who are well-versed in the intricacies of franchising law and have an understanding of local regulations and business practices. Working with qualified lawyers specializing in franchise law gives entrepreneurs access to invaluable insights into how best to structure their venture for maximum benefit.
At the same time, it's important to research various firms offering franchise law expertise in the Netherlands before selecting one that meets your needs and budget. It pays to ask around among colleagues or contacts within the industry as they may be able to provide valuable insight on which firms offer quality services at competitive prices. Additionally, many organizations like chambers of commerce can also help connect businesses seeking reliable representation with reputable firms offering specialized franchise law advice throughout Holland.
Finding the right Dutch franchise law firm means taking into account several factors such as experience level, fees charged, customer service provided, and reputation among clients. Once you identify those companies that meet all your criteria, don't hesitate to contact them directly for detailed information regarding their consultancy services related to setting up a successful business based on franchising models in this European nation.
Finding The Right Dutch Franchise Law Firm
Finding the right Dutch franchise law firm to represent you can be a daunting task. With so many firms in the Netherlands offering varying levels of expertise, it is important to take the time to thoroughly research each one before making your final decision. There are several key factors that should be taken into consideration when selecting a franchise lawyer in the Netherlands.
First and foremost, an experienced attorney must have knowledge about all aspects of Dutch franchise regulations. They should also understand how these regulations apply to different types of businesses, from small local franchises to larger international ones. Additionally, they should possess strong negotiation skills for successful completion of complex franchise law deals. Lastly, having experience with handling disputes arising out of franchising agreements is essential for avoiding costly litigation down the line.
When looking for a reliable representation firm in the Netherlands, consider their current client base as well as success rates on previous cases related to franchising matters. Good communication between lawyers and clients is critical for effective collaboration and achieving desired outcomes. Also look at any specializations within the area of franchising; this will ensure you get tailored advice specific to your situation or needs.
It's worth looking into whether there are any additional services available such as legal document drafting and filing services too – this may save some valuable time during negotiations or dispute resolutions proceedings. Choosing a knowledgeable and experienced team of attorneys who specialize in Dutch franchise law provides peace-of-mind knowing you are getting top quality legal support throughout every stage of your business venture's lifecycle.
Experienced Representation Services In The Netherlands
At our law firm in the Netherlands, we provide experienced representation services for those looking to enter the Netherlands franchise market. Our team of skilled attorneys is well-versed in Dutch law and has a comprehensive understanding of franchising regulations. We are committed to helping you succeed by providing:
Comprehensive legal advice on all aspects of a proposed agreement;
Assistance with drafting franchise contracts that protect both parties' interests;
Negotiations regarding disputes or matters arising from the agreement;
Representation during litigation proceedings when necessary.
e understand the importance of being able to navigate the complexities of franchising laws in order to make informed decisions when entering into an agreement. That's why we strive to ensure that each client receives sound legal counsel throughout their journey towards establishing a successful business relationship with another party or expanding their existing operations within the Netherlands. With our knowledgeable lawyers, you can trust that your best interests will be represented and safeguarded at every step along the way.
As specialists in franchise law, our attorneys provide reliable guidance on issues related to intellectual property rights, trademark registration, conflict resolution strategies, among other topics relevant to operating as a franchisee in this jurisdiction. Therefore, if you need experienced representation services tailored specifically for your individual circumstances, then look no further than us – our team is here to help!
Dutch Attorneys With Specialist Franchise Knowledge
"As the old saying goes, 'a stitch in time saves nine', and this could not be truer when it comes to legal matters concerning franchises. Dutch attorneys with specialist franchise knowledge are essential for any business dealing with franchising issues, as they can provide invaluable advice on how best to navigate the complexities of national and international law surrounding a given transaction.
It is important to note that there are several factors which need to be taken into account when selecting an attorney who specialises in franchise agreements. The most obvious factor is experience – having a lawyer who has dealt with multiple similar cases will ensure that all relevant details have been considered and properly accounted for. Additionally, familiarity with local laws pertaining to franchises must also be taken into consideration; only then can one rest assured that the contract being drawn up is compliant on both sides.
Finally, communication between client and attorney should always remain open. This allows questions or concerns to be raised quickly, ensuring that no misunderstandings arise during negotiations or disputes down the line. With these three key considerations met, clients can confidently move forward knowing their interests are well-protected."
Dealing With Disputes Involving Franchises
When disputes arise with regards to a franchise, the Dutch law firm or franchise lawyer must be consulted. The attorney will analyze the situation and provide advice on how best to proceed in order to resolve any conflicts. This may involve negotiations between all parties involved, as well as potentially taking legal action if necessary.
In resolving a dispute, it is important for all parties to keep an open mind and be willing to compromise. It is also essential that each side has access to reliable information about their rights under Dutch law. A qualified franchising lawyer can help guide both sides through this process in a way that respects those rights while still finding an equitable resolution for everyone involved.
It is also wise for the franchisor and franchisee alike to seek out experienced counsel when dealing with complex issues such as breach of contract or infringement of intellectual property laws. An attorney who specializes in these areas can ensure that all agreements are properly drafted, signed, and enforced according to Dutch law. With proper assistance from a knowledgeable professional, disputes involving franchises can often be avoided altogether or at least resolved quickly and amicably without resorting to costly litigation. Moving forward, it's critical that effective measures are put into place so similar problems don't occur again in the future.
Dutch Law Firm Or Franchise Law
For those looking for professional representation for clients in the Netherlands, a franchise law firm is an ideal option. One must be sure to select a reputable and experienced Dutch legal team that understands the complexities of franchising laws. This can help ensure success when it comes to dealing with disputes involving franchises.
Having a trusted partner on your side will make navigating complex regulations much smoother sailing. A reliable franchise lawyer should have extensive knowledge about existing legislation and how they are interpreted in court cases. They should also stay up-to-date on any changes or new developments in the field so their advice remains relevant and accurate. It's like having someone at the helm who knows all the ins and outs of Dutch franchise law – no stone left unturned!
With such expert guidance, you can focus more on running your business rather than trying to figure out every aspect of franchise law yourself. Many firms offer tailored services as well, so you get exactly what you need without paying for anything extra. Whether it's offering strategic advice during negotiations or helping draft contracts – you know you're in good hands with a qualified franchise attorney from The Netherlands guiding you through each step of the process.
Professional Representation For Clients In The Netherlands
At our law firm, we provide comprehensive legal advice and services to clients who wish to enter the Dutch franchise market. We have a team of experienced lawyers that can assist with all aspects of franchising in the Netherlands.
We advise on matters such as compliance with local laws and regulations, registration requirements, contract negotiation and drafting, dispute resolution, tax implications and other related issues. Our focus is always on protecting our clients' interests while helping them achieve their business goals.
Our knowledgeable attorneys understand the complexities of Dutch franchise law and are dedicated to providing high-quality legal representation. We strive to ensure that our clients receive the best possible outcome from their investment in the Netherlands' franchise industry.
This thorough approach ensures that our clients remain informed throughout the process, allowing them to make sound decisions regarding their investments. With this foundation in place, they can move forward confidently into their venture within the Dutch marketplace. Moving ahead then to understanding the Dutch Franchise Act…
Dutch Franchise Act
The Dutch Franchise Act is an absolute necessity for anyone hoping to make deals in compliance with Dutch laws. It's complex and intricate legislation, laid down in Book 7 of the Dutch Civil Code. The new act (adopted in 2021) lays out rules, regulations and processes required for businesses operating within the Netherlands– all seeming designed to protect against any potential legal issues or disputes. As such, it can be daunting for those unfamiliar with its contents.
Fortunately, experienced franchise law firms in the Netherlands like ours are here to help you navigate this tricky terrain; we specialize in understanding each individual clause so you don't have to worry about getting lost in translation. Our team has years of experience deciphering the language of the act and ensuring your business dealings comply with all applicable statutes. We take pride in our ability to provide comprehensive advice tailored specifically to your needs – saving you both time and money in the long run.
No matter what kind of venture you're undertaking, there's no substitute for quality representation when it comes to protecting your interests under Dutch law. With us by your side, you can rest assured that your agreements will be crafted expertly in accordance with relevant legislation – so that you never miss another opportunity due to lack of knowledge or miscommunication. Onward into making deals in compliance with Dutch laws!
Making Deals In Compliance With Dutch Law
At a franchise law firm in the Netherlands, we understand that structuring deals for clients needs to be done with utmost care and attention. We provide comprehensive advice on how to structure your deal in compliance with Dutch laws.
Our team of experienced lawyers is well-acquainted with all applicable regulations and can help you navigate through the process of making sure your agreement respects the legal requirements set by Dutch legislation. We assist our clients throughout their entire business transaction, from negotiating terms to finalizing agreements. Our goal is to make sure that every client understands the nature of their obligations under the contract and can enter into it confidently knowing that they are protected legally.
In addition to providing specific legal advice related to each case, we also offer broader guidance regarding transactions involving franchises located in the Netherlands. We strive to ensure that each individual's best interests are served while ensuring compliance with Dutch laws. With us as your partner, you will have access to sound legal counsel and reliable representation when engaging in any kind of business dealings within this jurisdiction.
We look forward to assisting you in creating an effective franchise agreement or other business arrangement that satisfies both parties involved and meets all necessary regulatory standards. As we move onto discussing advice and representation firms in The Netherlands, keep us top of mind if you need trusted legal support for upcoming negotiations or contracts.
Advice And Representation by law Firms In The Netherlands
The Netherlands is home to many experienced and knowledgeable franchise law firms. These firms can provide advice and representation on a wide range of topics related to franchising in the Netherlands, including: drafting and reviewing contracts governed by Dutch law; dealing with regulatory issues; advising on taxation matters; providing legal advice regarding intellectual property rights; negotiating business deals; and representing clients in court cases.
Franchise lawyers are familiar with Dutch laws that govern franchising, such as those relating to competition, labor relations, consumer protection, data privacy, advertising regulations and more. They also understand the complexities of international franchising agreements. With their expertise in these areas they can protect you from any pitfalls while doing business abroad or within the Netherlands itself.
For anyone looking for professional assistance when it comes to entering into a franchise agreement in the Netherlands or seeking legal advice about an existing one, engaging an experienced local lawyer would be beneficial. A good lawyer will not only ensure your interests are protected but also make sure all parties involved are fully aware of their obligations under Dutch law.
Frequently Asked Questions
What Are The Costs Associated With Hiring A Franchise Law Firm In The Netherlands?
When it comes to the costs associated with hiring a franchise law firm, there are several factors to consider. The type of services provided by the lawyer, their experience, and whether they are offering an hourly rate or a flat fee will all play a role in how much you end up paying. Additionally, depending on your situation, there may also be additional fees such as filing and court costs that need to be taken into account.
In order to get an accurate estimate of what kind of expenses you should expect when working with a Dutch franchise agreement lawyer, it is important to first identify exactly what services you need. This can help narrow down which lawyers are best suited for your needs and budget. Additionally, you should ask about any additional fees or charges that might be added onto the total cost so that you don't find yourself surprised later on.
It's also important to remember that each case is different and therefore no two attorneys can offer identical prices for similar services. Each franchise attorney has their own set of qualifications, expertise and practice areas which could mean higher or lower rates than other professionals in the same field. Therefore it is essential to do some research before choosing who to hire – make sure they have experience dealing with cases like yours before committing financially. Doing this due diligence ahead of time will save money in the long run!
Are There Any Short Courses Available In The Netherlands To Help Understand Franchise Law?
Are there any short courses available to help understand franchise law? This is a question that many potential franchisors ask when they are just getting started with the process. After all, knowing the ins and outs of such an intricate topic is essential for success in this type of business venture. Fortunately, there are several excellent options available in the Netherlands:
University Courses – Many universities throughout the country offer specific courses related to understanding franchise law. These range from introductory classes to more advanced topics like international law. Plus, you can usually find online versions or hybrid classes if needed.
Seminars & Workshops – You may also be able to find workshops or seminars put on by local experts who specialize in franchise law topics. Often times these events provide concise information about how to navigate the complexities of setting up franchises and avoiding legal pitfalls along the way.
Professional Associations – Professional associations are another great resource for finding reliable information about Dutch franchise laws and regulations quickly and easily without having to do extensive research yourself. Joining one of these organizations will give you access to industry-specific resources as well as networking opportunities with other professionals in your field who might have valuable insight into what you need to know before starting a new venture.
Consultation Services – Last but not least, consulting services from experienced attorneys specializing in this area of law can be invaluable when it comes time to make sure everything is done correctly according to Dutch standards and regulations. Hiring someone knowledgeable about both domestic and international aspects gives added peace of mind that your operation will remain compliant with all applicable laws no matter where its located globally.
Franchising can be a lucrative business endeavor if done properly; however, due diligence must always be taken upfront so that questions regarding legal issues don't arise down the line which could prove costly later on. Taking advantage of any or all of these resources allows potential franchisors get off on the right foot while ensuring their operations abide by current legislation wherever necessary.. By taking full advantage of these offerings now, prospective entrepreneurs can avoid unforeseen headaches during their journey towards achieving success with their ventures moving forward!
Are There Any Online Resources Available To Help Me Find The Right Franchise Law Firm?
When looking for the right franchise law firm, it is important to do your research. There are a number of online resources available that can help you understand the key elements and make an informed decision.
First off, there are plenty of websites offering detailed guidance on what to look out for when selecting a good franchise law firm. This information includes things like the experience level and reputation of each potential candidate as well as any certifications or qualifications they may have obtained. Additionally, many sites offer advice on topics such as contract negotiation, dispute resolution and other legal matters related to franchising.
Another useful resource is professional associations dedicated to franchising in The Netherlands. These organizations provide members with access to expert advice from experienced professionals who specialize in this area, along with networking opportunities that can be invaluable when searching for a suitable partner. Furthermore, they often host seminars or webinars covering relevant topics such as regulatory compliance and best practices that may be beneficial when choosing a specific lawyer or firm.
It is also worth considering whether there are any short courses available that could provide additional insight into Dutch franchise laws and regulations. Taking part in one of these programs could give you the necessary knowledge to ensure you select the right professional to handle your case effectively and efficiently.
What Are The Benefits Of Working With A Dutch Franchise Law Firm?
Working with a Dutch franchise law firm can be hugely beneficial for any individual or business looking to take their franchising endeavors to the next level. It is no secret that when it comes to complex legal matters, having an experienced professional on your side is worth its weight in gold – and this holds true when making decisions regarding franchise agreements. To put it bluntly, having access to a reliable team of experts who know all the ins-and-outs of Dutch franchise law can make life much easier and give you real peace of mind.
When seeking out a suitable lawyer, one should look for experience and expertise within the field they're dealing with. When considering a Dutch franchise agreement specialist, there are certain advantages that come into play which can tip the scales in favor of working with them over another type of lawyer. For starters, not only do these individuals have unparalleled knowledge of local regulations but they also understand how those laws interact with international standards too – something which could prove invaluable if you decide to expand outside of the Netherlands at some point down the line.
Furthermore, such lawyers will generally have extensive contacts across many different areas related to franchising; from suppliers and vendors through to financial advisors and banks – meaning that whatever problem arises during negotiations or discussions around contracts, they will likely have somebody who can help solve it quickly. In addition, by using someone familiar with both local customs as well as modern practices, you can rest assured that whoever you choose has the best interests of both parties at heart – ensuring everything runs smoothly so everyone ends up happy!
In short, entrusting your legal needs to an established Dutch franchise law firm may just be what's needed to get things off on the right foot – allowing you to concentrate more on growing your business rather than worrying about potential pitfalls associated with operating abroad. After all, being able to sleep soundly knowing every 'T' is crossed and 'I' dotted offers unrivaled assurance in any situation – so why leave anything to chance?
What Are The Risks Associated With Franchising In The Netherlands?
When franchising in the Netherlands, there are certain risks to consider. As a franchise agreement lawyer, it is important for me to inform my clients of all possible risks associated with their venture.
First and foremost, one must be aware of the legal regulations surrounding franchises in the country. It is essential that any potential franchisor understands how Dutch law applies to them before entering into an agreement. This will ensure compliance with both national and local legislation. Additionally, it is necessary for parties involved to recognize their respective rights and obligations under a franchise contract; failure to do so can cause disputes or even termination of the contract.
Furthermore, there may also be financial implications when franchising in the Netherlands. While some franchises offer attractive returns on investments, they require significant capital outlay upfront which could prove difficult if not properly managed. Moreover, depending on the size of the business, tax liabilities may need to be taken into account too as this could have an impact on profits generated by such ventures.
In order to protect yourself against any unforeseen issues during your journey as a franchisor in the Netherlands, it would be wise to seek reliable advice from experienced professionals who understand Dutch laws and regulations pertaining to businesses operating within its borders. Consulting an expert can help you identify potential pitfalls and make sure that everything runs smoothly throughout your endeavour.
Conclusion
The Netherlands is a great place to begin your franchising journey, but it's important to make sure you have the right legal representation. Working with an experienced franchise law firm in the Netherlands can help ensure that you are protected while taking advantage of all the benefits this country has to offer. With their expert knowledge and guidance, they'll be able to navigate any complex situation that may arise throughout the process.
Not only will working with a Dutch franchise law firm provide protection for your business, but also peace of mind knowing that everything is taken care of legally. From paperwork filing deadlines to ensuring compliance with local laws and regulations, I am here to take care of every step so that you don't have to worry about anything.
These days, there are more resources than ever available when it comes to finding the perfect franchise law firm for your needs. Whether through online searches or short courses on understanding franchise law, no matter where you're starting from – I'm confident we can find the best solution together!
Get in Touch with Our Experienced Dutch Franchise Attorneys
If you have any questions or require legal assistance, please don't hesitate to reach out to our knowledgeable and dedicated team at our Dutch law offices. We are committed to providing exceptional legal services and personalized attention to address your unique needs. You can contact us through our website, via email, or by phone. Our friendly and professional staff will be more than happy to assist you and schedule a consultation with one of our expert attorneys in the Netherlands, for example a Dutch litigation lawyer or contract lawyer in Holland in Amsterdam. We look forward to the opportunity to help you navigate the complexities of the legal landscape and achieve the best possible outcomes for your case.
The content provided on this legal blog is intended for general informational purposes only and should not be construed as legal advice or a substitute for professional legal counsel. While we strive to ensure the accuracy and timeliness of the information presented, we cannot guarantee its completeness or applicability to your specific circumstances. We encourage you to consult with a qualified attorney for advice regarding your individual legal matters. The content on this blog may be subject to changes or updates without notice, and we disclaim any responsibility for any errors or omissions in the information provided.