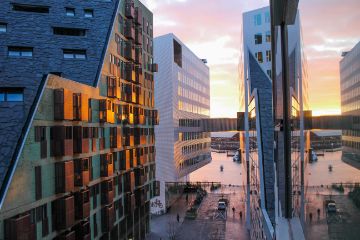 Franchising in the Netherlands is an intricate, evolving landscape governed by an array of legal parameters. In recent years, there's been a discernible transition from unregulated operations to rigorous legislation ensuring fair play and transparency. To provide a clearer understanding, we delve into the fundamental aspects of franchising in the country, and more particularly, the offer and sale of franchises in the Netherlands under the new regulations.
Defining Franchising in the Netherlands
Dutch Franchise Agreement & Formula
Before we dissect the intricacies, it's imperative to understand what exactly constitutes a franchise in the Netherlands. Although the term 'franchise' is not directly articulated in the new Franchise Act of 2021, both 'franchise agreement' and 'franchise formula' are distinctly demarcated.
A franchise agreement, under article 911 (1) of the Franchise Act, can be comprehended as:
An arrangement where the franchisor, for a fee, confers upon the franchisee both the privilege and duty to employ a franchise formula.
This formula is for the production, sale of goods, or furnishing of services in a manner delineated by the franchisor.
On the other hand, a franchise formula as stipulated in article 911 (2) of the Franchise Act encapsulates:
A commercial, operational, and organizational method for goods' production or sale or service delivery.
This method is pivotal for maintaining a cohesive image and identity across franchise enterprises in a chain.
It essentially includes trademarks, design, trade names, and a wealth of practical knowledge not sheltered by intellectual property rights.
Evolution of Franchising Legislation in Holland
Genesis of the Dutch Franchise Code
It's insightful to know that the Netherlands once deliberated on establishing a voluntary 'Franchise Code'. The Ministry of Economic Affairs, in 2015, fostered the creation of the Dutch Franchise Code, finalized in early 2016. The motive was to allow franchisors and franchisees to optionally adhere to this code. However, this met with significant resistance, leading to its eventual abandonment by the majority of franchisors.
Birth of the New Franchise Act
Post the friction around the voluntary code, in 2016, a draft franchise bill surfaced to make the Franchise Code a binding law. Nonetheless, following criticisms and rejections, the government signaled its intent in 2017 to usher in distinct franchising legislation. This was materialized in mid-2020 when the new Franchise Act was ratified and subsequently took effect from 1 January 2021.
Key Regulatory Requisites
The Netherlands' shift to one of the world's most stringently regulated franchising nations is noteworthy. One crucial aspect is the franchisor's need to gain a consensus from most franchisees to modify or innovate the franchise formula. Moreover, the introduction of a "derived formula" holds significance. This formula:
Ensures a standardized identity and image.
Aligns with the franchise formula on certain distinguishable facets identifiable to the audience.
When applied, may rival a franchisee's business operations.
Moreover, the bedrock of the franchisor-franchisee relationship is the duty to act as good business partners. Assistance, technical aid, and commercial support from the franchisor remain the linchpin of this relationship.
Franchisor Eligibility and Franchisee Selection
Interestingly, there are no rigid prerequisites a franchisor must meet before presenting franchise opportunities. Yet, for maintaining the franchise chain's reputation, it's paramount that franchisors adopt a meticulous approach when recruiting franchisees.
Disclosure and Due Diligence
A pivotal component of the franchising ecosystem in the Netherlands is the rigorous pre-contractual disclosure obligations imposed on the franchisor. This includes providing any pertinent information that could influence the franchisee's decision. The emphasis is on clarity, comprehensibility, and unambiguous articulation, ensuring the franchisee's well-informed choice.
Conversely, franchisees are also bound to present their financial standing to the franchisor, ensuring a transparent two-way relationship. They are further obligated to actively avoid basing their decisions on erroneous assumptions, which might involve external consultations with experts.
Consequences of Non-disclosure
Given the mandatory nature of the Franchise Act, any deviation that undermines the franchisee is impermissible and is deemed void. Non-compliance not only renders these deviations non-invocable but may also have legal repercussions.
In conclusion, as franchising in the Netherlands undergoes dynamic changes, it's crucial for both franchisors and franchisees to stay updated, ensuring a balanced and fruitful business relationship.
Contact our contract lawyers for Dutch franchise law
If you have any questions or require legal assistance regarding the offer and sale of franchises in the Netherlands, please don't hesitate to reach out to our knowledgeable and dedicated team at our Dutch law firm.  Our Dutch lawyers are committed to providing exceptional legal services and personalized attention to address your unique needs. You can contact us through our website, via email, or by phone. Our friendly and professional staff will be more than happy to assist you and schedule a consultation with one of our expert attorneys in the Netherlands, for example a Dutch litigation attorney or contract lawyer in the Netherlands in Amsterdam. We look forward to the opportunity to help you navigate the complexities of the legal landscape and achieve the best possible outcomes for your case.
Contact person: Remko Roosjen | attorney-at-law
Office number: +31 (0)20 – 210 31 38
remko.roosjen@maakadvocaten.nl
The content provided on this legal blog is intended for general informational purposes only and should not be construed as legal advice or a substitute for professional legal counsel. While we strive to ensure the accuracy and timeliness of the information presented, we cannot guarantee its completeness or applicability to your specific circumstances. We encourage you to consult with a qualified attorney for advice regarding your individual legal matters. The content on this blog may be subject to changes or updates without notice, and we disclaim any responsibility for any errors or omissions in the information provided.