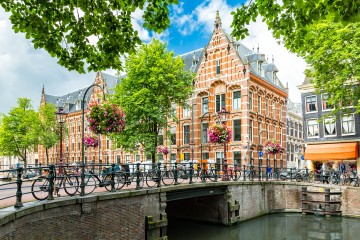 Legal disputes can be intricate and stressful. Finding the right litigation lawyer in The Netherlands to represent you will make all the difference in how your case is resolved. This article by our litigation lawyers in the Netherlands will provide you with guidance on what to look for when searching for a litigation attorney in The Netherlands. Litigation plays an integral role in the legal system and helps settle disputes between parties. MAAK Attorneys in Amsterdam, the Netherlands are experts in Dutch civil litigation with expertise spanning from commercial litigation and contract law to product compliance & regulation. Our Dutch litigation attorney in the Netherlands will give you a brief overview of some of the most crucial proceedings taking place there.
What is a Litigation Lawyer in the Netherlands?
A litigation lawyer in the Netherlands is a Dutch legal professional that specializes in representing clients before Dutch courts and resolving legal disputes through litigation. They possess knowledge of Dutch procedural law as well as skillsets for negotiation, drafting documents, and testifying at court hearings.
FAQs:
Q: What is the role of a litigation lawyer in the Netherlands?
A: Litigation lawyers in The Netherlands represent clients in legal disputes and seek to resolve those disagreements through litigation in court systems.
Q: How do I know if I need a litigation lawyer in the Netherlands?
A: If you find yourself involved in a legal dispute, consulting with an experienced litigation lawyer is likely your best bet for representing yourself and protecting your rights.
Q: How much will it cost me to hire a litigation lawyer in the Netherlands?
A: The cost of legal services will depend on several factors, including the complexity of your case, their experience and expertise, as well as other elements.
Litigation lawyer in the Netherlands about the merits
Recently, the Netherlands has seen an uptick in summary judgments to resolve civil law disputes. This trend can be attributed to changes made in court procedures over time. Summary proceedings (in Dutch: "kort geding") occur when a judge issues a preliminary ruling after considering the immediate interests of all parties involved, rather than delving into the legal details of the dispute at hand. Summary proceedings do not bind the judge in subsequent merits hearings, so even if a plaintiff's claim is dismissed in the summary phase, they can still pursue it further down the line. However, the substantive proceedings (in Dutch: "bodemprocedure") can be a time-consuming and expensive undertaking. Therefore, parties often opt to comply with judgments in summary proceedings instead of going forward with the merits. Although full damages can only be determined and awarded through this stage in court, parties who have sustained substantial damages may still have to endure this lengthy procedure.
What Can a Litigation Solicitor Tell You About Summary Proceedings in the Netherlands?
In The Netherlands, parties with disputes can initiate civil proceedings (proceedings on the merits), which may take several months or even years to resolve. This can be especially problematic when an urgent interest such as when a monetary claim needs to be fulfilled quickly. In such cases, summary proceedings (also referred to as "kort geding") can be initiated instead of proceedings on the merits and provide them with provisional decisions from judges more quickly. For further details or inquiries on these services offered by our litigation lawyer Remko Roosjen in The Netherlands, feel free to reach out to him directly!
What is the Nature of Summary Proceedings in The Netherlands?
Summary proceedings in The Netherlands are independent processes designed to obtain a provisional decision from a judge in preliminary relief cases. Contrary to IP cases, summary proceedings do not necessitate that proceedings on the merits be initiated concurrently. The ruling of the judge in preliminary relief proceedings is provisional – meaning it remains valid until a final judgment is rendered in subsequent litigation. It is essential to be aware that judges in proceedings on the merits or other summary proceedings are not bound by the provisional judgments issued by judges in preliminary relief proceedings. Provisional nature of preliminary relief proceedings means judges cannot annul or dissolve contracts nor give declaratory judgments on liability; these decisions must remain provisional until final. Our litigation lawyer in the Netherlands would be delighted to be of assistance.
When Can Summary Proceedings Begin in The Netherlands?
Before starting summary proceedings in The Netherlands, two conditions must be fulfilled. Firstly, the case must be suitable for summary proceedings – that is, not too complex. Short deadlines apply during summary hearings with limited room for taking evidence so if it becomes too complicated, judges won't even look into it. Secondly, there must be an urgent interest and plaintiff must be unable to wait for judgment on merits; they must then substantiate this need with evidence when receiving summons.
Key Legal Concepts:
Litigation – The process of taking legal action to settle a dispute.
Civil Law – A branch of the law which deals with disputes between individuals or organizations rather than criminal cases.
Summary Proceedings – Independent actions designed to obtain a provisional decision from the judge in preliminary relief proceedings.
Prejudgment Attachments – Dutch law freezing of property assets after judgment.
Lawyer specialized in litigation
Selecting the correct litigation lawyer in the Netherlands is essential to ensuring a favorable outcome of your legal dispute. Consider their experience and expertise, communication skills, availability/accessibility, reputation/recommendations as well as fees and payment terms before making your choice. With proper representation you can protect your rights, guarantee a fair outcome, save time and money while minimizing stress. Our litigation law firm in The Netherlands would be honored to be of assistance.
Contact person: Remko Roosjen | Litigation attorney in the Netherlands
+31 (0)20 – 210 31 38
remko.roosjen@maakadvocaten.nl