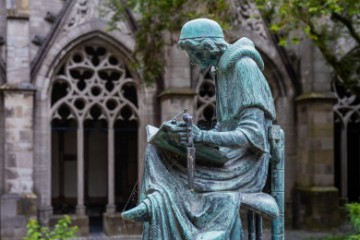 At MAAK Advocaten, we are dedicated to providing comprehensive and up-to-date information on litigation and dispute resolution laws and enforcement in the Netherlands. As a Dutch law firm in the Netherlands, we understand the importance of accurate and reliable legal guidance for businesses and individuals involved in legal proceedings under Dutch law. In this article, we will cover key topics related to Dutch litigation and enforcement in the Netherlands – preliminaries and before commencing proceedings in the Netherlands.
Dutch Court litigation
Legal System and Dutch Civil Procedure Rules
Our specialist law firm, in Amsterdam, advises on Dutch litigation and enforcement in the Netherlands. The Netherlands follows a civil law tradition, and civil procedure rules, and Dutch court litigation in particular, are governed by the Dutch Code of Civil Procedure (DCCP). These rules are supplemented by Dutch litigation regulations of the courts. The Dutch legal system is known for its efficiency, accessibility, and adherence to the rule of law. International benchmark studies have consistently ranked the Dutch legal system as fast, efficient, and honest. Dutch court litigation can be quite complex and different from other jurisdictions. Therefore, our litigation attorneys in the Netherlands would be happy to be of assistance.
Dutch Court Structure and Specialized Courts
The Dutch civil court system consists of three levels of judicial instances. There are 11 district courts, with cases generally handled by a single judge. Complex cases are referred to a full-bench panel of three judges. The district courts (in Dutch: "Kantonrechter") also have specialized subdistrict law sectors for small claims, labor disputes, tenancy issues, commercial agency disputes, consumer sales, and consumer loan disputes.
The Netherlands Commercial Court (NCC) specializes in adjudicating international commercial disputes. It consists of specialized judges, and proceedings are conducted in English. Additionally, the Enterprise Court of the Amsterdam Court of Appeal deals with matters involving mismanagement and corporate governance issues.
Certain district courts have specialized divisions for specific areas of law, such as intellectual property (The Hague) and shipping and transport (Rotterdam).
Stages of Dutch Civil Proceedings and Timelines
Civil proceedings in the Netherlands typically follow the following stages:
a) Filing a Writ of Summons (in Dutch: "Dagvaarding"): The claimant initiates the proceedings by filing a writ of summons, which contains a statement of claim.
b) Statement of Defense (in Dutch: "Conclusie van Antwoord"): The defendant files a statement of defense within six weeks, responding to the claims made in the writ of summons.
c) Court Appearance ('In Dutch: "mondelinge behandeling"): The Dutch court orders the parties to appear before the court or submit additional written statements (in Dutch: "repliek" and "dupliek"), depending on the complexity of the case. This stage usually takes 12 to 24 weeks.
d) Interim or Final Judgment (in Dutch: "vonnis"): The court issues an interim or final judgment, which can take an additional six to 24 weeks. The timeframe may vary for motions, interim judgments, and evidence-related matters.
In cases of extreme urgency, provisional judgments in preliminary relief proceedings can be obtained more quickly, ranging from the day of the hearing to a few weeks thereafter (in Dutch: :"kort geding").
Exclusive Jurisdiction Clauses
Both the Brussels I Regulation (recast) and the DCCP recognize and allow for exclusive jurisdiction clauses. However, there are certain exceptions where exclusive jurisdiction may not be permitted, such as cases related to the validity of registrations at public registries, labor disputes, and consumer cases.
Costs of Civil Court Proceedings in the Netherlands
Both the claimant and the defendant are required to pay court fees based on the value of the claim (in Dutch: "griffierechten"). The losing party is typically ordered to cover the procedural costs of the prevailing party, including court fees, witness and expert fees, and fixed legal fees. However, the actual costs and attorney fees incurred by the prevailing party are rarely fully covered by the amount awarded.
Dutch attorneys are obligated to discuss the financial consequences of their engagement and legal actions with their clients, according to professional conduct rules.
Dutch Litigation Funding and Fee Arrangements
Third-party litigation funding is permitted in the Netherlands, except when provided by Dutch law firms. Civil procedure rules do not specifically regulate litigation funding, but limitations may arise based on public policy or the principles of reasonableness and fairness. The Dutch Claim Code, a self-regulatory instrument, provides best practices for collective redress actions and the use of third-party funding.
Lawyers in the Netherlands are generally prohibited from offering "no win, no fee" services, except for a pilot program in personal injury cases. However, alternative fee arrangements that are dependent on the outcome of the case, such as a basic fee and a success fee, are allowed within certain limits.
Assignment of Claims and Non-Party Funding
Claims can be assigned to third parties, subject to the conditions stipulated in Dutch substantive law and any limitations imposed by contract. Non-party funding is permitted, except for law firms.
Security for Legal Costs in the Netherlands
In certain cases, non-EU claimants from countries without a treaty prohibiting security deposits under the Dutch Procedural Code may be required to provide a security deposit. Treaties such as the Hague Convention on Civil Procedure and the Hague Treaty on International Access to Justice may restrict the court's ability to require a security deposit.
Before Commencing Proceedings
Prerequisites for Initiating Proceedings: In general, there are no procedural prerequisites for filing a lawsuit in the Netherlands. However, a notice of default may be required to enforce one's rights. In cases of mismanagement brought before the Enterprise Chamber or collective actions, pre-trial correspondence about the underlying complaints is necessary.
Limitation Periods under Dutch law
The limitation period of contractual claims under Dutch law: according to Dutch law, a claimant can file a contractual claim, irrespective of whether damage has occurred. The claim arises on the date of the contract breach, and the five-year limitation period starts running from this date.
Different limitation periods apply to various types of claims in the Netherlands. For example, the right to claim specific performance becomes time-barred after five years. The right to claim damages or a contractual penalty becomes time-barred after five years from the day the injured person became aware of the damage and the identity of the person liable. Specific timeframes also exist for nullifying agreements and demanding the annulment of resolutions. Unless otherwise provided by law, a claim becomes time-barred after 20 years.
These limitation periods are considered substantive law issues and are calculated based on specific circumstances.
Formality for Initiating Proceedings in the Netherlands
In general, there are no procedural prerequisites for filing a lawsuit in the Netherlands. However, a notice of default is often required before initiating legal proceedings in Holland. Pre-trial correspondence is mandatory in cases of mismanagement brought before the Enterprise Chamber and collective actions.
Pre-Action Interim Remedies under Dutch law
The Dutch civil justice system does not provide for pre-trial proceedings as commonly found in common law jurisdictions. However, parties may gather or secure evidence before proceedings by demanding inspection of documents, levying attachments on documents, or requesting provisional examinations of witnesses or expert reports. Preliminary hearings may also be held to hear witnesses and experts.
In certain cases, such as preliminary relief proceedings, provisional judgments can be obtained more quickly to address urgent matters.
Dutch litigation and enforcement in the Netherlands: specialist law firm
Our team at MAAK Advocaten specializes in Dutch litigation and enforcement in the Netherlands and provides expert advice and guidance on navigating the intricacies of litigation and dispute resolution laws and regulations in the Netherlands. Stay tuned for the next part of this series, where we will explore the stages of commencing proceedings and provide insights into the Dutch legal system's approach to exclusive jurisdiction clauses.
For more information and personalized assistance, feel free to reach out to our team of legal professionals. We are committed to helping you achieve the best possible outcomes in your legal matters in the Netherlands.
Enforcement of a Judgment in The Netherlands
At MAAK Advocaten, we specialize in providing expert legal assistance and guidance to individuals and businesses seeking to enforce a foreign judgment in The Netherlands. Our experienced team of Dutch lawyers is well-versed in the intricacies of cross-border enforcement and is committed to helping you navigate the legal landscape with ease.
Simplified Procedure for Recognition and Enforcement
The recognition and enforcement of a foreign judgment in The Netherlands can be accomplished through a simplified procedure. In this process, the Dutch courts issue a declaration of enforceability after conducting purely formal checks of the documents submitted. This procedure ensures a streamlined approach, reducing unnecessary delays and complexities.
Initiating Enforcement Proceedings in the Netherlands
To initiate Dutch litigation and enforcement in the Netherlands, it is necessary to obtain leave from a District Court in The Netherlands. The applicant must provide the Dutch court with the following documents:
A certified copy of the judgment obtained from the foreign court;
A certificate from the court of origin, which identifies the court and the parties involved in the judgment.
At MAAK Advocaten, our dedicated team of Dutch collection attorneys can assist you in filing the application for recognition of the foreign judgment on behalf of the claimant. With our expertise in cross-border enforcement, we ensure that all necessary documentation is accurately prepared and submitted, facilitating a seamless process.
Litigation and enforcement law firm in the Netherlands
Dutch litigation and enforcement in the Netherlands requires a thorough understanding of the legal framework and the specific procedures involved. At MAAK Advocaten, we pride ourselves on our in-depth knowledge of cross-border enforcement and our commitment to providing exceptional legal services to our clients. Our experienced team of lawyers can guide you through the entire process, ensuring a successful recognition and enforcement of your judgment in The Netherlands.
If you have any further questions about Dutch litigation and enforcement in the Netherlands, please don't hesitate to reach out to our knowledgeable and dedicated team at our Dutch law firm. Our Dutch lawyers are committed to providing exceptional legal services and personalized attention to address your unique needs. You can contact us through our website, via email, or by phone. Our friendly and professional staff will be more than happy to assist you and schedule a consultation with one of our expert solicitors in the Netherlands, for example a Dutch court litigation attorney or contract lawyer in the Netherlands in Amsterdam. We look forward to the opportunity to help you navigate the complexities of the legal landscape and achieve the best possible outcomes for your case.
Contact person: Remko Roosjen | attorney-at-law
Office number: +31 (0)20 – 210 31 38
remko.roosjen@maakadvocaten.nl
The content provided on this legal blog is intended for general informational purposes only and should not be construed as legal advice or a substitute for professional legal counsel. While we strive to ensure the accuracy and timeliness of the information presented, we cannot guarantee its completeness or applicability to your specific circumstances. We encourage you to consult with a qualified attorney for advice regarding your individual legal matters. The content on this blog may be subject to changes or updates without notice, and we disclaim any responsibility for any errors or omissions in the information provided.