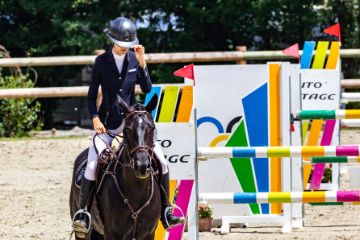 Equine law in the Netherlands is in a state of flux. This is not surprising, as equine law in the Netherlands has experienced tremendous growth in recent decades, and the financial interests behind it have continued to grow. Buying and selling a horse can easily be a multi-million dollar business, and even civil litigation over a horse's semen is currently a major issue in the Netherlands This once again shows that there is a considerable, booming business behind equine sports. As a result of this development, horse law has gained in importance. Our equine lawyer, Maud van den Berg, has also noticed that – precisely because of the considerable interests involved – litigation in this field is increasing, for example when it comes to transport, the non-conformity of a horse (e.g. a disappointed buyer when buying a horse with a bone cyst, etc.).
In short, the equestrian sector is becoming increasingly important and legally complex. Every day, our equine lawyer in the Netherlands act for equestrians, entrepreneurs and organizations in the equestrian sector who are faced with legal challenges. Together, we determine the legal situation and strive for quick and practical results.
WHAT IS THE DEFINITION OF EQUINE LAW?
Equine law can be defined as the law governing all legal matters related to horses and/or ponies, such as liability, contract and property law. Examples of equine law cases are: the non-conformity of a horse, the conclusion of a contract for the sale of a horse, the conclusion or termination of a cooperation agreement in equestrian sports or the conclusion of a sponsorship agreement in equestrian sports.
ADVICE AND LITIGATION IN Horse LAW in the Netherlands
Both business owners and horse riders may have different questions about the legal challenges of equine sports. These questions about equine law in the Netherlands take on an added dimension when international contracts are involved. Especially then, it is good to have clear agreements or to know where you stand in the event of a business dispute.
Our equestrian lawyer in the Netherlands will be happy to assist you with any questions you may have regarding horse law. In this respect, the following topics should be noted:
Drawing up a contract of sale for a horse or pony;
Conducting civil proceedings for the non-conformity of a horse within the meaning of the Equine Law (e.g. suspicion of the presence of cornification at the time of the horse's delivery, purchase of a horse with a bone cyst);
Negotiation of an agreement for the purchase of a horse;
Conduct civil proceedings in the event of defective performance of the contract;
Advising on equine law in the Netherlands, including liability, contract and property law;
Legal advice on veterinary opinions in connection with the purchase and sale of horses or ponies;
Elaboration of sponsorship contracts for the equestrian events;
Termination of a riding contract;
the termination of a cooperation agreement in equestrian sports;
Assisting veterinarians in liability proceedings.
NONCONFORMITY AND ORDINARY USE OF A HORSE
When there is talk of non-conformity and ordinary use of a horse, it generally involves a buyer who is disappointed with a purchase contract. The question then arises as to whether there was a mistake about the purchase or whether the parties interpreted the purchase agreement differently. All these questions should be correctly assessed by a contract law attorney, and the circumstances of the case always play a significant role. Be informed about this in a timely manner.
Get legal assistance from a Dutch horse lawyer
Are you looking for more information on equine law in the Netherlands? Would you like to be advised by an experienced lawyer in Dutch horse law who also has a personal affinity for horses and horse law in the Netherlands?
If you are looking for a Dutch specialist lawyer with in-depth knowledge of horse law, you have come to the right place with horse lawyer Maud van den Berg. Maud has only one thing in mind: to really solve legal problems. As a lawyer, she does this with drive, ambition, determination and determination.
CONTACT AN EXPERIENCED EQUINE LAWYER
Why do our clients choose horse lawyer Maud van den Berg? Maud explains it to you
Advice and litigation in equine law in the Netherlands
A focus on quick and appropriate solutions, that is the starting point for Maud van den Berg in her work. No unnecessary or expensive fuss. "That's how I've been doing it for years in our equine law firm. Not only when giving advice, but also when initiating and preparing civil proceedings. Especially then. When it comes down to it, I'm there for our clients with every legal solution imaginable. If necessary, I go to extremes to achieve the best result. The interests of the clients always come first for me."
LEGAL ADVICE ON HORSE LAW
My legal knowledge of equine law and my extensive experience are not an end in themselves. I use them very specifically in the cases I handle. I know what entrepreneurs, riders and other players in the equestrian world are up against. I know the interests of each individual in the equestrian world and can therefore offer tailor-made solutions.
Non-binding initial consultation
"How can I help you as a lawyer? I would be happy to discuss this with you in an initial non-binding meeting. You can then tell me about your case in confidence and I can give you my initial reaction. Please feel free to contact me with any questions you may have about equine law."