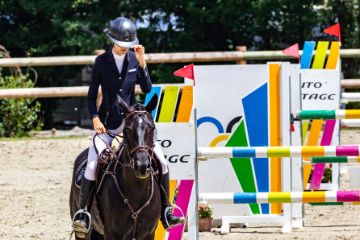 Equine Law pertains to the legal facets associated with horses, covering domains like horse transactions, equine sports, horse-related enterprises, and stable administration. It is dedicated to managing relations, settling conflicts, and promoting the humane care of horses.
Equine law in the Netherlands is in a state of flux. This is not surprising, as the role and importance of equine law in the Netherlands have experienced tremendous growth in recent decades, and the financial interests behind it have continued to grow. Buying and selling a horse can easily be a multi-million dollar business, and even civil litigation over a horse's semen is currently a major issue in the Netherlands This once again shows that there is a considerable, booming business behind equine sports. As a result of this development, horse law has gained importance. Our equine lawyer in the Netherlands, Maud van den Berg, has also noticed that – precisely because of the considerable interests involved – litigation in this field is increasing, for example when it comes to transport, the non-conformity of a horse (e.g. a disappointed buyer when buying a horse with a bone cyst, etc.).
In short, the equestrian sector is becoming increasingly important and legally complex. Every day, our equine lawyer in the Netherlands act for equestrians, entrepreneurs and organizations in the equestrian sector who are faced with legal challenges. Together, we determine the legal situation and strive for quick and practical results.
WHAT IS THE DEFINITION OF EQUINE LAW in the Netherlands?
Equine law can be defined as the law governing all legal matters related to horses and/or ponies, such as liability, contract and property law. Examples of equine law cases are: the non-conformity of a horse, the conclusion of a contract for the sale of a horse, the conclusion or termination of a cooperation agreement in equestrian sports or the conclusion of a sponsorship agreement in equestrian sports.
ADVICE AND LITIGATION IN Horse LAW in the Netherlands
Horse owners as well as business owners often have questions regarding the legal ramifications of equine sports. When international contracts are involved, these inquiries take on even greater significance; having clear agreements or knowing your position in case of a business dispute is beneficial.
Our equestrian lawyer in the Netherlands is available to answer any queries you might have on horse law or business law for the equine industry in the Netherlands. Specifically, these include topics such as:
Drafting a contract of sale for a horse or pony;
Conducting civil proceedings regarding non-conformities within the meaning of the Equine Law (e.g., suspicion of cornification at delivery time, purchase of a horse with a bone cyst);
Negotiate an agreement for the purchase of a horse;
Conduct civil proceedings in case of non-performance of the contract;
Advise on Dutch equine law, including liability, contract and property law;
Legal counsel on veterinary opinions regarding the purchase and sale of horses or ponies;
Drafting sponsorship contracts for equestrian events;
Terminating riding contracts;
Ending cooperation agreements in equestrian sports;
Assisting veterinarians with liability proceedings
NONCONFORMITY AND ORDINARY USE OF A HORSE
When there is talk of nonconformity and ordinary use of a horse, it typically involves an unhappy buyer who was disappointed in their purchase contract. The question then arises as to whether there was an error made during the purchase or the parties interpreted the agreement differently. All these matters should be evaluated properly by a contract law attorney, taking into account all relevant circumstances in each case. Be informed promptly about this development.
Get legal assistance from a Dutch horse lawyer
Are you in search of more information on equine law in the Netherlands? Would it be beneficial for you to speak with an experienced Dutch lawyer who specializes in horse law and has a personal interest in horses and the industry?
Are you searching for a Dutch specialist lawyer with comprehensive knowledge of horse law? Maud van den Berg is your perfect match. Maud has one goal in mind: to truly solve legal problems. As an attorney in the Netherlands, her passion, ambition and determination drive her towards this task every day.
Expert Legal Counsel for Equestrian Sports
At Maak Advocaten, our Dutch attorneys specialize in equine law. This means they stay abreast of the most recent legal developments within the equestrian world so your case will be handled efficiently and effectively. When working with our team of equine attorneys from The Netherlands, you can rest assured knowing they will do everything possible to secure a positive resolution for you.
Veterinary Negligence in the Netherlands
Under Dutch law, vets owe a duty of Care to their clients, patients and sometimes third parties. This means they should exercise reasonable care and skill in their practice while upholding standards expected of an average or reasonably competent vet. If you believe you have a claim arising from veterinary negligence or another expert involved in a horse transaction under Dutch law, please don't hesitate to reach out to our equine lawyers in The Netherlands for legal representation.
Vet's Examination Report on a Horse in the Netherlands
When purchasing a horse in the Netherlands, it is essential to consult a Dutch veterinarian specializing in horses. Their report will offer some assurance about the horse and any defects or negative issues can be used as leverage to negotiate down the purchase price. Ensure they carry professional indemnity insurance and request a written examination report in plain language with X-ray pictures of the animal. Accompany them during their examination and consider making video recording it. Ensure to inquire about the report prior to paying upfront.
Definitions in equine law
Injunction: A court order that directs someone to do or not do something.
Lien: A legal claim or charge on property to ensure payment of a debt or other obligation.
Negligence: Negligent failure to exercise reasonable care that causes harm to another party.
CONTACT AN EXPERIENCED Dutch EQUINE LAWYER
Our equine lawyers in The Netherlands possess both the expertise and experience to meet all your horse-related legal needs in The Netherlands. Get in touch today for more information or to arrange a consultation!
Why do our clients choose horse lawyer Maud van den Berg? Maud shares her reasoning with you:
Advice and litigation in equine law in the Netherlands
A focus on quick and appropriate solutions, that is the starting point for Maud van den Berg in her work. No unnecessary or expensive fuss.
"That's how I've been doing it for years in our equine law firm. Not only when giving advice, but also when initiating and preparing civil proceedings. Especially then. When it comes down to it, I'm there for our clients with every legal solution imaginable. If necessary, I go to extremes to achieve the best result. The interests of the clients always come first for me."
LEGAL ADVICE ON Dutch HORSE LAW
My legal knowledge of equine law and my extensive experience are not an end in themselves. I use them very specifically in the cases I handle. I know what entrepreneurs, riders and other players in the equestrian world are up against. I know the interests of each individual in the equestrian world and can therefore offer tailor-made solutions.
Non-binding initial consultation from an equine lawyer in the Netherlands
"How can I help you as a lawyer? I would be happy to discuss this with you in an initial non-binding meeting. You can then tell me about your case in confidence and I can give you my initial reaction. Please feel free to contact me with any questions you may have about equine law."