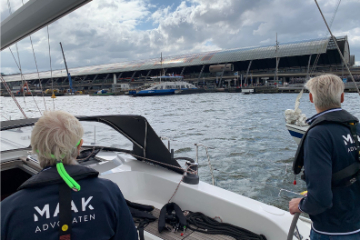 MAAK Advocaten located in Amsterdam has a well-established yachting legal service business with a key focus on the superyacht class. Our yachting lawyers in the Netherlands, Remko Roosjen and Maud van den Berg are the key contacts for the superyacht team. Our Dutch legal team are all avid sailors and we also have our own sailing school, the MAAK Sailing Academy. Our attorneys in the Netherlands are able to provide high-quality service because of our legal knowledge and passion for boats. When it comes to yachts we are experts in providing relevant legal services and advice in this niche market.
Our yachting legal services in the Netherlands
Examples of where we can support you:
Contract negotiations
Construction of new builds, refits or conversions
Negotiation and review of commercial contracts such as:

Management and design agreements
Contracts for the purchase and sale of yachts
Loan agreements in Dutch law
Subcontractors and suppliers can enter into agreements
Marine insurance

Handling warranty claims
Prejudgment attachment for a yacht in the Netherlands
Post-sale yachting disputes in The Netherlands regarding poor or non-performance
Preparation and distribution of corporate documents.
Articles of incorporation
By-laws
Corporate resolutions
Minutes of shareholder meetings
Secretarial certificates are and
Powers of attorney
Finance documents include ship mortgages, assignments and pledges, as well as guarantees, guarantees, and other miscellaneous undertakings.
Preparation of bills of sale;
Attending ship sale closings;
Our firm's lawyers are ready to work quickly if the transaction has tight deadlines. MAAK lawyers act primarily for superyacht owner clients but we can also advise professionals involved in various yachting operations.
Dutch attorneys specialized in yachting law
MAAK Advocaten Amsterdam offers legal services for the yacht industry. We advise on the drafting, negotiation and execution of Dutch repair, construction and design contracts for yachts. We often work with overseas colleagues and can be part of an international collaborative and multi-discipline team. We are experts in the Dutch law aspects of contracts, such as title, ownership, and security interests. In cases where there are conflicts, we can intervene before any court in the Netherlands.