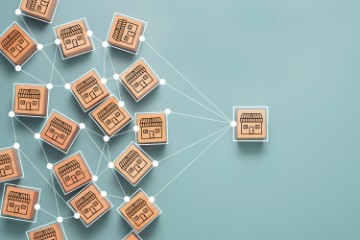 FRANCHISE AGREEMENTS UNDER DUTCH LAW
Franchising is a common form of business in the Netherlands. It is hard to imagine large cities like Amsterdam without franchises and for many entrepreneurs they are an attractive alternative to owning their own business. In this blog, our law offices in the Netherlands will inform you about a franchise agreement in the Netherlands, the characteristics of a Dutch franchise and explain what you to consider in a franchise agreement in the Netherlands. MAAK's English-speaking Dutch franchise agreement lawyers in the Netherlands use their experience to provide you with the best possible support for your strategic and commercial questions regarding a franchise agreement in the Netherlands.
WHAT IS A FRANCHISE?
First of all, there is no legal definition of franchising in Dutch law. However, the Dutch Franchise Association (NFV) has developed a generally accepted definition that lawyers work with. According to this definition, franchising is a system for the distribution of products and/or services and/or the use of technology that is based on a close and lasting cooperation between legally and economically independent companies, the franchisor and the franchisee.
CONCLUSION OF A FRANCHISE AGREEMENT WITH A DUTCH PARTY
In essence, the establishment of a franchise is a form of cooperation in which two or more companies work together while maintaining their own legally separate identities. The franchisor is the owner of the intellectual property (including goodwill) of a company.
Under a franchise agreement, the franchisee receives a licence to use the franchisor's intellectual property for a fee. Contractually, it can be agreed that the franchisee will adhere to certain guidelines and conditions that are intended to protect the interests of the franchisor. The franchise agreement or the so-called franchise manual also specifies the franchisor's obligations, such as commercial or technical advice and support.
FRANCHISES IN THE NETHERLANDS
Dutch law does not contain any specific legal rules on franchising. Franchising in the Netherlands therefore falls under general Dutch contract law, unless the parties have chosen to apply the law of another country to their contract. Dutch law also does not regulate a specific form regarding franchises; a written contract is not required, but may be advisable in some cases. Our lawyers in Amsterdam have acquired expertise in contract law through years of experience and are happy to advise you before entering into a franchise agreement with Dutch partners.
FRANCHISE AGREEMENTS IN THE NETHERLANDS
Franchise agreements often also touch on other areas of law such as intellectual property law, the law of obligations, tenancy law and European competition law. Under Dutch law, it is common for an employment contract to be concluded between the franchisor and the franchisee under Dutch law on the basis of the mandatory statutory provisions. The franchisor is given full and managerial supervision over the franchisee. In the Netherlands, franchise agreements are usually concluded for a certain period of time, i.e. for a fixed term.
FRANCHISE AGREEMENT IN THE NETHERLANDS: NEW DUTCH FRANCHISE LAW
The new Dutch Franchise Act will come into force on 1 January 2021. This has consequences for your franchise agreement and franchise manual, the working method and processes within your business, and the recruitment and selection process. Our English-speaking lawyers can help you adapt these to bring them in line with the new legislation.
The Franchise Act focuses on four parts that the legislator believes are important for balanced relationships:
1. The pre-contractual phase with information exchange
2. Interim amendment of an ongoing franchise agreement
3. Consultations between the franchisor and its franchisees
4. Termination of the franchise agreement
FRANCHISOR LIABILITY UNDER DUTCH LAW
Before entering into a franchise agreement, the franchisee will usually want to know whether taking over a franchise is profitable at all and what the exact figures are. However, the franchisor is not legally obliged to provide information about the profitability of the business. Under certain circumstances, however, the franchisor can be held liable if the figures and data provided to the franchisee turn out to be wrong. Furthermore, it follows from Dutch case law that the franchisor owes a duty of care to the franchisee and can therefore be held liable if it breaches this duty of care.
INDISPENSABLE CLAUSES FOR A FRANCHISE AGREEMENT IN THE NETHERLANDS
Important points that should be considered in a franchise agreement include the duration of the contract, confidentiality clauses, the inclusion of a non-competition clause and a right of termination. Our lawyers in the Netherlands will be happy to assist you in concluding or reviewing your franchise agreement – especially in cross-border situations. Please do not hesitate to contact us!
SPECIALIST LAWYER FOR CONTRACT LAW IN THE NETHERLANDS
Are you interested in a cross-border franchise project in the Netherlands? Our team of lawyers consisting of multilingual contract law specialists will support you in your business ventures in the Netherlands. If you have any questions about franchising, please contact our English-speaking lawyers in Amsterdam. Phone: +31 (0)20 – 210 31 38E-mail: mail@maakadvocaten.nl Contact: Martin Krüger | English-speaking lawyer in the Netherlands.
Get in Touch with Our Dutch franchise lawyers
If you have any questions or require legal assistance regarding Dutch franchise law, please don't hesitate to reach out to our knowledgeable and dedicated team at our Dutch law firm. We are committed to providing exceptional legal services and personalized attention to address your unique needs. You can contact us through our website, via email, or by phone. Our friendly and professional staff will be more than happy to assist you and schedule a consultation with one of our expert attorneys in the Netherlands, for example a Dutch litigation attorney or contract lawyer in the Netherlands in Amsterdam. We look forward to the opportunity to help you navigate the complexities of the legal landscape and achieve the best possible outcomes for your case.
The content provided on this legal blog is intended for general informational purposes only and should not be construed as legal advice or a substitute for professional legal counsel. While we strive to ensure the accuracy and timeliness of the information presented, we cannot guarantee its completeness or applicability to your specific circumstances. We encourage you to consult with a qualified attorney for advice regarding your individual legal matters. The content on this blog may be subject to changes or updates without notice, and we disclaim any responsibility for any errors or omissions in the information provided.